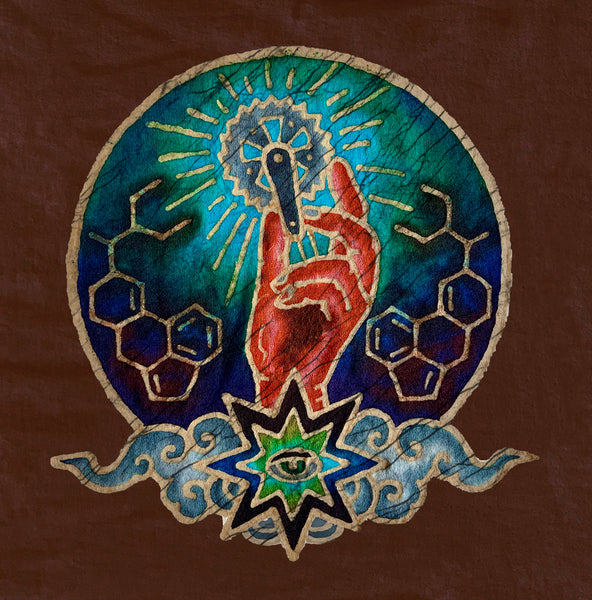 Shifting Gears - Bicycle Day 2020
"Shifting Gears" pays Homage to Albert Hofmann's pivotal and insightful bicycle ride on April 19th 1943. This design will be LIMITED TO 50 PIECES and will include "Bicycle Day 2020" on the back.

✰✰ PLEASE NOTE ✰✰
Due to COVID-19:  Expect 4 - 6 weeks from date of purchase to receive your handmade batik. Since each shirt is made to order we do not accept exchanges or returns. All sales are final. Please be sure to check our SIZE CHART to insure the right shirt choice before purchasing. 
On April 19th 1943 Dr. Albert Hofmann performed a self-experiment to determine the true effects of LSD, intentionally ingesting 0.25 milligrams (250 micrograms) of the substance, an amount he predicted to be a threshold dose (an actual threshold dose is around 20 micrograms).

Less than an hour later, Hofmann experienced sudden and intense changes in perception. Fearing he had made himself ill, he cycled home from his lab. During his bicycle ride, he experienced the full effects of LSD, making this the date of the first ever acid trip. He wrote about his experiments and experience, which was later put into his book LSD: My Problem Child. After the bicycle ride home, the experience proved to Hofmann that he had indeed made a significant discovery: a psychoactive substance with extraordinary potency, capable of causing significant shifts of consciousness in incredibly low doses.

Hofmann foresaw the drug as a powerful psychiatric tool; because of its intense and introspective nature. Following its discovery, LSD was acclaimed as a wonder-drug in psychiatry, speeding-up and deepening the healing process by accelerating access to psychological trauma. Between 1943 and 1970, it generated almost 10,000 scientific publications, leading to its description as 'the most intensively researched pharmacological substance ever'.

It also had a broader and more profound effect on how science viewed the mind, changing the dominant view of mental illness from the psychoanalytical model to one understood by brain-chemistry and the role of neurotransmitters. The LSD-experience resembled looking through a microscope and becoming aware of a different reality — a manifest, mystical totality, normally filtered out and hidden from view.